---
For much of my childhood, this was my mom's go-to cake. Each sponge cake layer is mixed with a different ingredient (poppy seed, prunes, walnuts), and then basted with sweetened condensed milk and left to soak. She just called it "three-layer cake"—so I pressed her for its actual name:
"It can't really just be called that. Where did you get it from?"
"From Lilya Gofman."
"So call Lilya."
"Well, maybe it wasn't Lilya . . ."
"But maybe it was, just ask her."
"No . . . Wait, this is not her handwriting."
"Okay, but it must have a name. Can't dad just Yandex it?"
My dad (the obstinate pessimist) chimes in: "Bonnie, you don't understand—we didn't have names for these things. I will not find it."
I roll my eyes. "Just try Yandex."
Yes. Yandex. It is Russia's answer to Google—but much more awkward and clunky. And it yielded dozens of names for this cake that don't translate particularly well. Including the name, of course, "Three-Layer Cake."
Ingredients
Soaking Liquid:
2 14-ounce cans sweetened condensed milk

2 sticks (1 cup) unsalted butter, softened to room temperature
For Each of the Three Layers:
Heaping 3/4 cup (100 grams) all-purpose flour

2 teaspoons potato starch

1 teaspoon baking powder

1/4 teaspoon baking soda

1/2 cup (100 grams) granulated sugar

1 large egg

1/2 cup (100 grams) sour cream
ADD-INS:
First layer: 1 cup (100 grams) walnuts, chopped into 1/4-inch pieces

Second layer: 1/3 cup poppy seeds (I like to blanch these in a few changes of boiling water to soften them and leach out any bitterness or off flavors)

Third layer: 1 cup (150 grams) prunes, cut into 1/4-inch pieces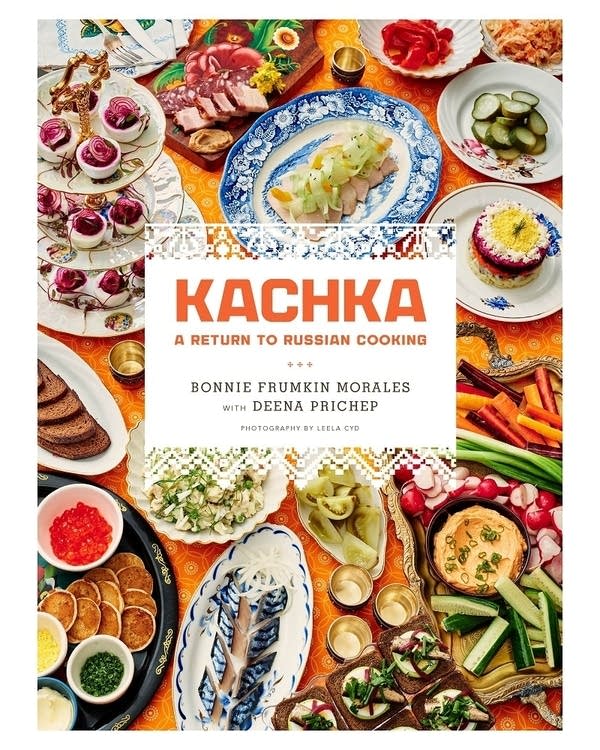 Directions
Preheat the oven to 350°F.
Butter and flour a 9-x-5-inch loaf pan (a straight-sided pan is easiest for creating a stackable cake, but if you have a sloped pan you can just trim the cake's sides). Line the pan with parchment—this serves as a sort of gurney to lift out the layers, so leave some overhang.
In the bowl of a stand mixer fitted with a paddle attachment, or large bowl with a hand mixer, stir together the sweetened condensed milk and butter until combined. Set aside.
In a small bowl, whisk together the flour, potato starch, baking powder, and baking soda. Set aside.
In the bowl of a stand mixer fitted with a paddle attachment or bowl, cream together the sugar and egg for a few minutes, until the mixture is light and fluffy. Add the sour cream, mix until combined, and then fold in the flour mixture until it's just combined. Gently mix in your add-in (the walnuts, poppy seeds, or prunes). Pour into the pan, place in the oven, and bake until a tester comes out clean, about 20 minutes.
While the cake bakes, line a rimmed baking sheet with waxed paper or parchment that's at least 6 inches longer than your loaf.
When the cake layer has baked, remove it from the oven, and run a knife around the edge to loosen it if needed. Using the parchment, flip the cake out onto your waiting tray (return the parchment to the loaf pan). Pour one-third of the soaking liquid over the top of the warm cake, spreading it around with a spoon so that it can soak in everywhere.
While the first layer sits in its milky bath, prepare the second layer—repeat the above process, but with a different add-in.
While the second layer is baking, sit down next to your first layer with a good book, and spoon up any soaking liquid that seeps out, ladling it back over the top and sides. By the time the second layer has finished baking, most of the liquid will have been absorbed. When the second layer has baked, run a knife around the edge to loosen it, and carefully place the second layer on top of the first. Pour half of the remaining condensed milk mixture over the top, and spread it around. Make the final layer, and while it bakes repeat the spooning and soaking with the second layer. Repeat with the final layer.
When you've finished all of the baking and soaking, let the cake sit overnight, so all that milky goodness has time to soak in (you can tent it with foil if needed). If any liquid seeps out overnight, you can gather it into a little dish to serve alongside. If your loaf pan has sloped sides, take a sharp serrated knife and trim off the edges to neaten everything up (this isn't necessary, but looks nice and has the added benefit of giving you some delicious end bits to eat while nobody's looking). Cut into slices and serve.
---
Excerpted Kachka: A Return to Russian Cooking by Bonnie Frumkin Morales with Deena Prichep. Copyright © 2017 by Bonnie Frumkin Morales and Deena Prichep. Reprinted with permission from Flatiron Books. All rights reserved. Photography by Leela Cyd.