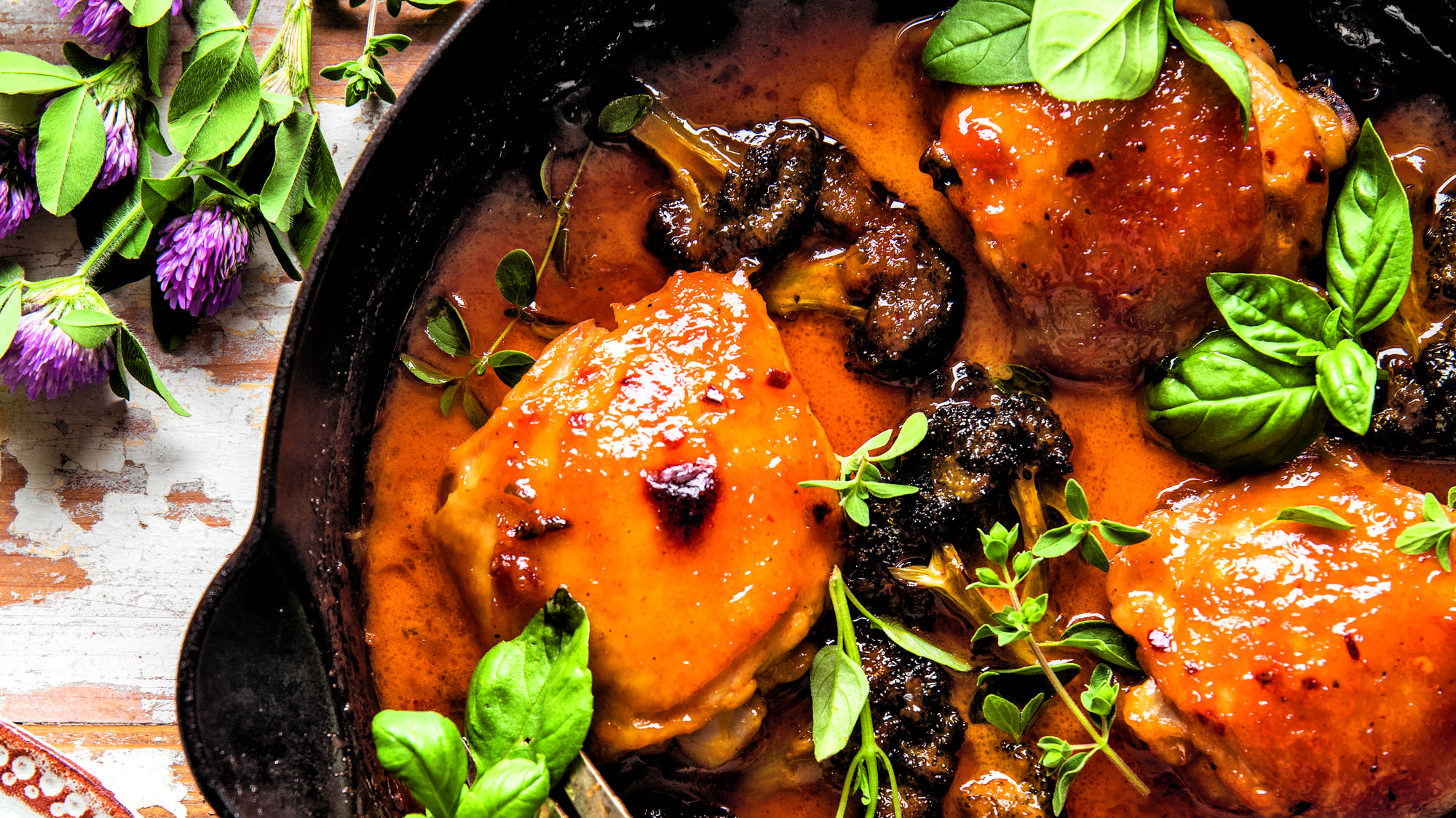 Photo: Teighan Gerard and Kristen Kilpatrick
PREP 10 MINUTES
COOK 30 MINUTES
TOTAL 40 MINUTES
SERVES 4
---
My nonnie loved a good dinner party and was a pro at effortlessly entertaining a crowd. I can't say she enjoyed spending much time in the kitchen cooking, but she could conjure up a delicious dinner with minimal effort. One of her tricks was using a mix of store-bought and homemade ingredients, perhaps leaning heavily on the former, but her food always tasted GOOD. Nonnie got this recipe for apricot chicken from her neighbor in Florida. She served it the night we arrived to visit her for Easter one year—she called it "First Night Apricot Chicken." Apparently, she made it the first night any of her many guests arrived. (When you spend the winters in Florida, you get a lot of visitors.) Well, we devoured it. This recipe is really all about the sauce, and it's a combo I never would have dreamed up. The three main ingredients sound odd together but are magic. They create a sticky, sweet, and savory chicken that will satisfy all your cravings. I serve mine with roasted broccoli and rice, but Nonnie often did mashed potatoes and asparagus. Take your pick! Either way, you'll end up with a stress-free dinner that's full of love.
INGREDIENTS
¾ cup high-quality apricot preserves or jam (I like Bonne Maman)

1 cup Billion Island Dressing (see below) or store-bought Thousand Island or Russian dressing

1 tablespoon balsamic vinegar

½ to 1 teaspoon crushed red pepper flakes

4 boneless, skinless chicken thighs or breasts (1½ to 2 pounds)

1 large head of broccoli, cut into florets

Steamed rice or cauliflower rice, for serving

Fresh herbs, such as basil, parsley, and/or cilantro, for serving
DIRECTIONS 
1. Preheat the oven to 400°F.
2. In a cast-iron skillet or 9 × 13-inch baking dish, stir together the apricot preserves, dressing, vinegar, and red pepper flakes. Add the chicken and turn to coat. Arrange the broccoli around the chicken. Bake until the chicken is cooked through and the sauce is bubbling, 25 to 30 minutes.
3. Serve the chicken, broccoli, and sauce over steamed rice and top with the fresh herbs.
---
Billion Island Dressing
MAKES ¾ CUP 
½ cup avocado oil mayonnaise

1 tablespoon ketchup (I like Primal Kitchen)

Juice of ½ lemon

1 teaspoon hot sauce, plus more to taste (I like Frank's RedHot)

1 tablespoon chopped pickles, plus 1 tablespoon pickle juice

½ teaspoon paprika

½ teaspoon garlic powder

½ teaspoon onion powder

Fine pink Himalayan salt and freshly ground pepper
In a small bowl, stir together the mayonnaise, ketchup, lemon juice, hot sauce, pickles and pickle juice, paprika, garlic powder, and onion powder to combine. Taste and season with salt and pepper. Add more hot sauce to taste. Store refrigerated in an airtight container for up to 2 weeks.
---
"Reprinted from Half Baked Harvest: Every Day. Copyright © 2022 by Tieghan Gerard. Photographs copyright © 2022 by Tieghan Gerard and Kristen Kilpatrick. Published by Clarkson Potter, an imprint of Random House."
---
When you shop using our links, we earn a small commission. It's a great way to support public media at no extra cost to you!