Photo: Natalie Engel | Andrew Bui | Melanie Dunea | EE Berger | Brittany Connerly
Thanks to everyone who listened to and submitted their question for our Turkey Confidential 2022 show. You can listen to our Turkey Confidential 2023 episode on the episode's page or via your favorite podcast app at 2pm ET/ 1pm CT.

This year's amazing roster of guests are, chef Kristen Kish, Top Chef's newest judge, Michigan chef and award-winning writer Abra Berens author of Pulp, A Practical Guide to Cooking with Fruit, Jocelyn Delk Adams of Grandbaby Cakes, Dan Pelosi aka "Grossy Pelosi" the exuberant author of Let's Eat, 101 Recipes to Fill Your Heart and Home and of course, our charming Francis! 
---
FEATURED GUESTS
Kristen Kish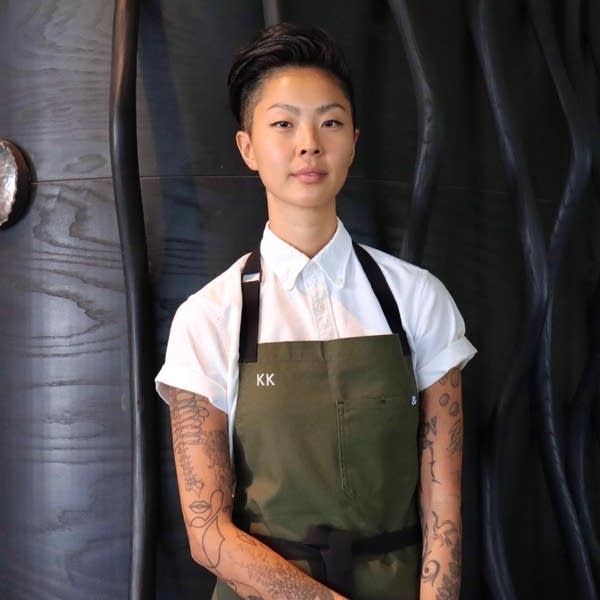 Kristen Kish was born in South Korea and adopted into a family in Kentwood, MI. At a young age, she showed an affinity for cooking and, prompted by her mother, attended Le Cordon Bleu in Chicago. After culinary school, Kristen spent the next ten years in Boston honing her skills in several high-profile restaurants, ultimately becoming the Chef de Cuisine at a Relais & Chateaux property. From 2012 – 2013, Kristen competed on Bravo's Top Chef season 10 where she ultimately won the coveted title. She became a permanent host of Top Chef in 2023. Kristen is the author of Kristen Kish Cooking: Recipes and Techniques.
---
Dan Pelosi
Dan Pelosi is the Italian- American meatball behind Grossy Pelosi, the popular Instagram favorite for all things comfort and food.
He hosts The Secret Sauce for Food52 and appears regularly on Good Morning America. He lives in Brooklyn, but
you can find him online at @grossypelosi. His latest book is Let's Eat: 101 Recipes To Fill Your Heart & Home.
---
Abra Berens
Abra Berens is a Michigan chef, author, and former farmer. Through every recipe written and meal served, she aims to tighten the connection between eaters and growers. She believes we can invest in a stronger, more equitable food system for everyone, from producers to grocers to consumers. She is the author of Ruffage: A Practical Guide to Vegetables, a 2020 Michigan Notable Book winner and James Beard Award nominee, and Grist: A Practical Guide to Cooking Grains, Beans, Seeds, and Legumes, and her latest, Pulp: A Practical Guide to Cooking With Fruit.  Her dinners at Granor Farm in Three Oaks, Michigan, made her a James Beard semifinalist for Outstanding Chef: Great Lakes.
---
Jocelyn Delk Adams
Jocelyn Delk Adams is the founder, author, national television personality, and brand ambassador behind the award-winning cookbook Grandbaby Cakes and the food website Grandbaby-Cakes.com, which gives her family's, particularly her grandmother's, cherished generational recipes her modern spin while preserving their original charm and spirit. Jocelyn is the co-host of the Cooking Channel and Discovery Plus game show, Stab That Cake.